Competition Committee Expected To Review Cowboys vs. 49ers Play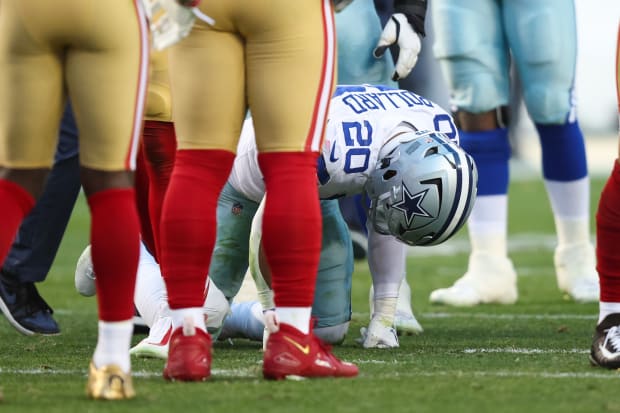 The NFL competition committee will look into plays that led to injuries last weekend.
According to The Washington Post's Mark Maske, the committee will consider the "mechanics of the tackle" that resulted in Dallas Cowboys running back Tony Pollard suffering a high ankle sprain in Sunday's loss to the San Francisco 49ers.
The competition committee and league will also examine the play in which Patrick Mahomes sprained his ankle.
San Francisco cornerback Jimmie Ward landed on Pollard's leg while dragging him down from behind. It's a legal play under the current rules.
Maske clarified that plays are reviewed every offseason, so the process may not yield any proposed changes. However, he suggested it "does signal at least a measure of concern over the technique used by Ward."
Pollard, who is a free agent this offseason, underwent surgery Tuesday to repair his high ankle sprain.
Jacksonville Jaguars linebacker Arden Key landed awkwardly on Mahomes, causing the Kansas City Chiefs quarterback to briefly exit Saturday's game with the same injury. He expects to play in the AFC Championship Game.