Jerry Jones Reacts To Dak Prescott's Performance Monday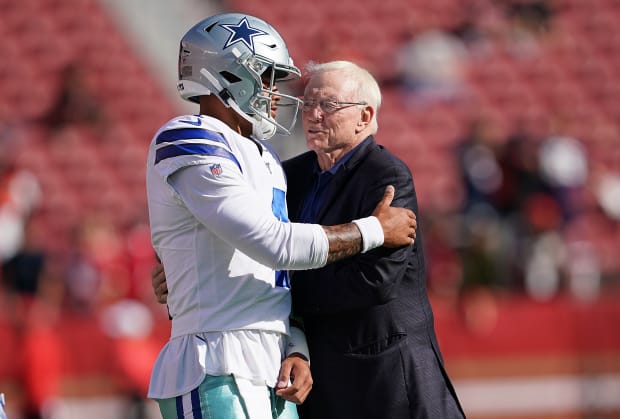 Cowboys owner Jerry Jones couldn't be prouder of his quarterback after Monday night's wild card win over Tom Brady and the Buccaneers.
Speaking to media after the game, Jones spoke glowingly of Dak Prescott who easily had the best performances of his playoff career thus far.
"[There's] no question [Dak] was going to have to step out here and go and be the difference," Jerry said, via Yahoo's Jori Epstein. "He did. He was. It served notice to everybody–including his teammates, including himself. That's part of the trophy we won. This was an elevating experience."
Prescott played with a controlled rage after getting embarrassed by the Commanders in Week 18, completing 25-of-33 passes for 305 yards and five total touchdowns.
From the time the ball kicked off it was clear that the Cowboys' $160 million man was out to prove something and his team followed.
A repeat performance will likely be needed if Dallas wants to walk out of Santa Clara with a win come Sunday night.