Look: NFL World Reacts To Jerry Jones' Postgame Admission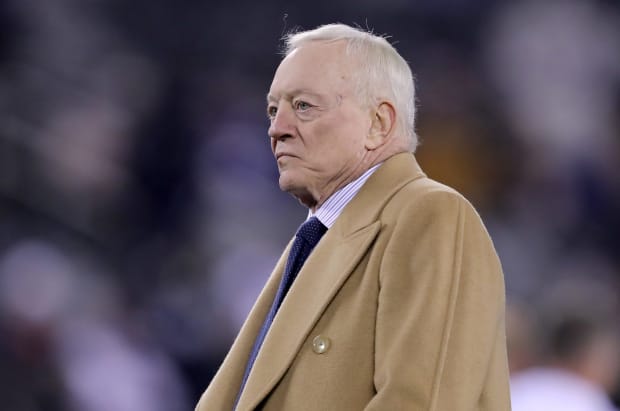 Another year, another playoff disappointment for Jerry Jones and the Dallas Cowboys.
After Sunday's 19-12 loss to the San Francisco 49ers, Jones stepped up to the mic to talk Dak Prescott and admitted that he believed his $160 million man could get his team to the Super Bowl; with an interesting use of the past-tense.
I thought this team with Dak at quarterback... I thought we had a chance to get to and compete at the top level in this tournament. I really did.
The NFL world reacted to Jones' postgame comments on social media.
"As I see it, the problem with the Dallas Cowboys is not QB Dak Prescott or coach Mike McCarthy. Rather, it's the franchise's mercurial owner Jerry Jones, who's the George Steinbrenner of the NFL. Why anyone would want to play or coach for this egotistical man, I have no idea," a user said.
"Put too much faith in a 4th rounder," another tweeted. "He's mid."
"Let's be totally honest. The Cowboys biggest issue is always gonna be Jerry Jones thinking he is smart enough to run the franchise and as we a have seen sine JJ left in the 90's," a fan replied. "It's just false."
"Thus is what happens when you overpay for a mediocre quarterback."
"I think [Jerry Jones] has always felt that Dak wasn't the guy and let peer pressure get to him. Just like Zeke, he paid him on potential without the results," another fan commented.
"No matter how funny it would've been for McCarthy to beat SF without [Aaron] Rodgers, you cannot argue that this is grade A s--- right here. Absolutely love 'defeated Jerry Jones,' few things better in sports."
Lot of questions going into this offseason.