Look: NFL World Reacts To Tony Pollard Play Announcement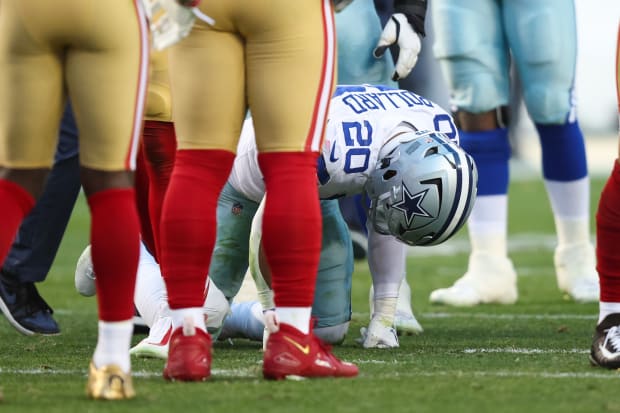 Dallas Cowboys lead back Tony Pollard suffered a broken leg and high-ankle sprain during this past weekend's Divisional Round loss to the San Francisco 49ers.
The serious injury occurred when Niners defensive back Jimmie Ward landed on the back of Pollard's leg as he made a tackle across the middle of the field.
The NFL Competition Committee is expected to discuss the "mechanics of the tackle in Pollard's case" when they meet this offseason, per reports from The Washington Post.
The NFL world took to Twitter to react to this news.
"Just play two hand touch already," one fan wrote.
"Just put the flags on the players at this point. It's a physical sport, players get hurt," another added.
"They've already moved to a flag football Pro Bowl. At this pace in 10 years the regular and postseason will be that way too….." another said.
"I told you all this was a dirty play. The 'hip drop' tackling technique was also banned in Rugby for similar reasons," another wrote.
Kansas City quarterback Patrick Mahomes suffered a high-ankle sprain of his own on a similar tackle during the Chiefs' Divisional Round win over the Jacksonville Jaguars.
If the NFL makes a rule change to combat this form of tackling, the game will get all the more difficult for defensive players.