NFL World Reacts To The 49ers vs. Cowboys Matchup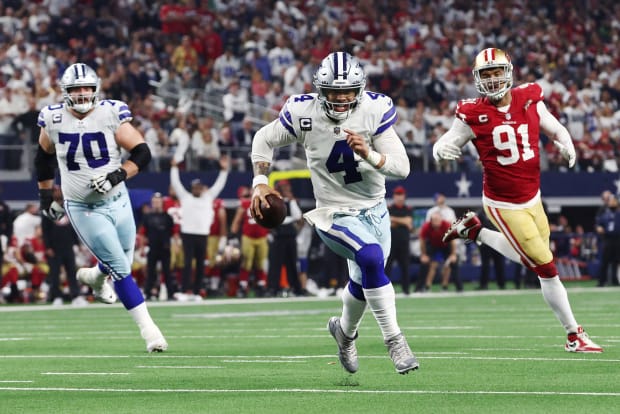 One of the NFL's classic rivalries is adding another chapter with Sunday night's playoff game. After the Cowboys took care of business against the Bucs, they're headed out west to meet the 49ers for a rematch of last year's wild card matchup.
The NFL world is already getting its popcorn ready:
"Another edition of Cowboys-49ers, one of the most iconic rivalries in the NFL," tweeted Action Network.
"Cowboys have won their first road playoff game since January 1993, when they beat the 49ers. Now they head to SF for the divisional round," said B/R Gridiron.
"The Cowboys play the 49ers on Sunday with the winner advancing to the NFC Championship Game. Here's the opening when the Cowboys played the 49ers in the 1993 NFC Championship Game," shared Arash Markazi.
"49ers vs Cowboys. We are here."
"The 49ers paid Charvarius Ward big money for moments like this — he'll have some big battles vs. the Cowboys' CeeDee Lamb. Both players delivering really good seasons," said Dave Lombardi.
Can't wait.