NFL World Reacts To Cowboys' Controversial Dak Prescott Move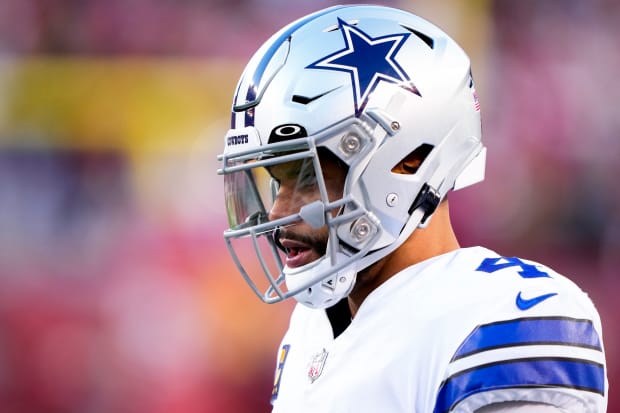 Even the official Dallas Cowboys Twitter account did not spare Dak Prescott on Sunday night.
As is customary in the NFL, the Cowboys employ a staff writer--Patrik Walker--for their team website. In his article on Dallas' 19-12 NFC Divisional Round loss to the San Francisco 49ers, Walker led with Prescott's two costly turnovers.
That's not that out of the ordinary, but the Cowboys' tweet sharing Walker's post did catch a lot of people by surprise because of the way it pointed the finger at the team's quarterback.
"Dak Prescott gave away the ball twice in the narrow loss to the 49ers, in a matchup the Cowboys had a chance to win if they didn't again generate self-inflicted wounds," the tweet read.
Many took note of the Cowboys' account calling out Prescott directly.
"Team account posting this is weak bruh!!!" said NBA star Donovan Mitchell.
"Wow!!! You never see that from the home team social media," added NFL Draft analyst Lance Zierlein.
"What is this tweet?!" asked Axios' Kendall Baker incredulously.
"The team's official website? Owwwwwwwww ... don't see that often. Almost as if the petulant owner took over the keyboard for himself," added longtime Pittsburgh sportswriter Dejan Kovacevic.
"Kudos to the Cowboys social media team for telling the truth," said Femi Abebefe of "The GM Shuffle Podcast" and VSiN. "If you don't [want] this to be the story, play better. No point lying about it."
"Wait this is from the actual Cowboys account!? Lol someone get the phone out of Jerry's hands. This is a bad look," stated former MLB star Jason Kipnis.
It should be noted that Jones was pretty blunt about his feelings publicly after the game ended.
"I thought this team with Dak at quarterback... I thought we had a chance to get to and compete at the top level in this tournament. I really did," he told reporters.
Prescott currently has two years left on his contract.