NFL World Reacts To Kellen Moore Coaching Update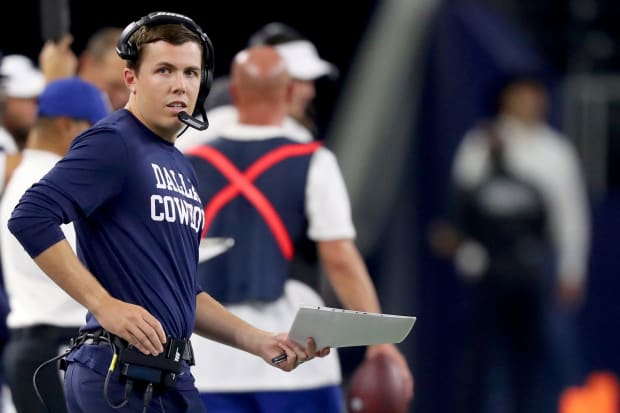 Dallas Cowboys offensive coordinator Kellen Moore is reportedly a candidate for the Carolina Panthers' head coaching vacancy.
ESPN's Todd Archer reported Wednesday that the Panthers requested permission to interview Moore. The young assistant previously interviewed with Miami and Jacksonville last offseason.
The Dolphins eventually hired Mike McDaniel while the Jaguars tabbed Doug Pederson.
Many of the responses to Archer's report are from disgruntled Cowboys fans who are practically begging for another team to hire Moore.
"Take him. Give me Kingsbury," said one Cowboys fan.
"Do it Carolina," added another.
However, Blogging The Boys' RJ Ochoa defended Moore from the naysayers.
"The replies to this are insane. The Cowboys have one of the top-scoring offenses in the NFL. They are not perfect, but the idea that Kellen is trash is so silly," Ochoa said.
"Kellen Moore is the type of guy these #NFL owners are hiring these days," added Dallas sportscaster Newy Scruggs.
"Kellen's reliance on running the ball on 1st down fits right in with what the Panthers did the second half of the season," argued Bryant C. of Crews & Clout. "I think he's a good OC but he could be MUCH better if he got away from being inefficient as a play caller on 1st down."
After his playing career with the Cowboys ended in 2017, Moore immediately jumped into coaching, joining then-head coach Jason Garrett's staff as the quarterbacks coach.
Moore transitioned to offensive coordinator in 2019, and after Garrett was fired following that season, his replacement Mike McCarthy elected to keep the 34-year-old in that role.