NFL World Shocked By Dak Prescott's Performance Sunday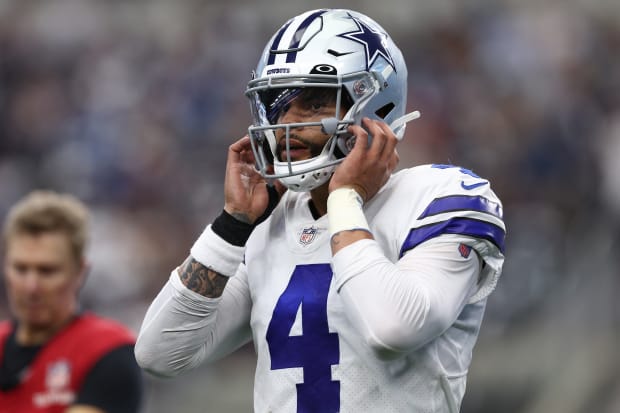 Dak Prescott couldn't shake off the turnover bug Sunday.
Immediately after the Washington Commanders dropped an interception, Kendall Fuller picked off the Dallas Cowboys quarterback for an easy touchdown in the second quarter.
Prescott has thrown an interception in seven straight games and tied Davis Mills for an NFL-high 15 picks this season.
Viewers responded to Prescott's poor first-half performance.
"The Dak Prescott interceptions are actually incredibly mind boggling," FS1's Emmanuel Acho wrote. "Throwing a speed out to the inside shoulder of the receiver is a recipe for disaster, and Dak knows that."
"Dak Prescott is regressing," Michael Fabiano of Sports Illustrated wrote.
"Dak looks terrible," USA Today's Mike Freeman said.
"If the goal is to show Tampa Bay nothing today, Kellen Moore and especially Dak Prescott succeeding in big way" Tim Cowlishaw of the Dallas Morning News said in reference to the Cowboys' potential first-round playoff opponent.
The Cowboys entered Sunday's game needing a win and Philadelphia Eagles loss to secure the NFC East title. They're down 13-0 late in the second quarter to the Washington Commanders.
Prescott has completed four of 11 pass attempts for only 25 passing yards. They already have four three-and-out drives.
On the bright side, this game probably won't matter for Dallas anyway. The Eagles have a 16-0 lead over Davis Webb and the New York Giants.
The Cowboys could cut their losses and sit Prescott in the second half to prepare for a probably Wild Card Round matchup against the Buccaneers. If not, he'll look to get into a rhythm before next weekend's increasingly likely road game.