Packers Reporter Predicts Mike McCarthy's Kicker Decision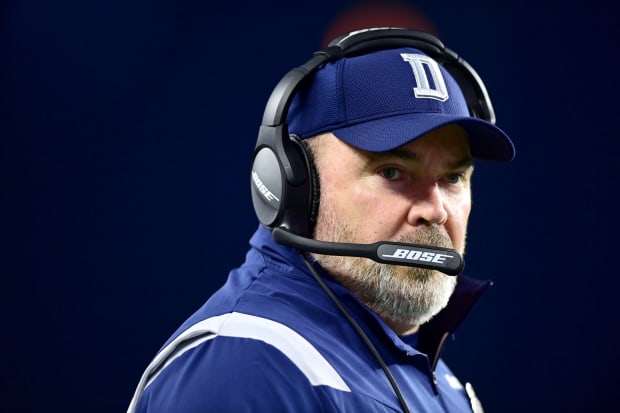 Dallas Cowboys Mike McCarthy faces a kicking dilemma leading up to Sunday's NFC Divisional Round game against the San Francisco 49ers.
Brett Maher, who had made all but six extra points throughout his four-year career, missed four point-after tries in Monday's 31-14 win over the Tampa Bay Buccaneers.
A Green Bay Packers reporter noted that McCarthy faced a similar situation five years ago.
The Athletic's Matt Schneidman recalled Mason Crosby missing five kicks (four field goals and one extra point) in Week 5 of the 2018 season. Unlike Monday night, those blunders proved costly in a 31-23 loss to the Detroit Lions.
However, McCarthy and the Packers stuck by their longtime kicker, who converted 102 of his next 106 tries. Schneidman believes McCarthy will extend the same trust in Maher.
"He's gonna keep going to Maher and pray the same thing happens," Schneidman wrote.
McCarthy's actions and post-game comments seemingly support that sentiment.
After four consecutive PAT misses, McCarthy finally appeared to have enough when leaving his offense on the field for a 4th-and-4 at the 18. However, Maher made the extra point after Dak Prescott threw a touchdown to CeeDee Lamb.
"We need Brett," McCarthy said after the game, per NFL.com's Grant Gordon. "He understands that, so we need to get back on it this week and get him ready to go. Obviously kicking in an outdoor stadium out there in Santa Clara. Yeah, he's disappointed. We need him. We need him to focus in. He's been super clutch for us all year, but that's the plan."
However, the Crosby and Maher situations aren't perfect parallels.
Crosby's horrible day occurred during his 12th season with the team, and three of the failed field-goal attempts were from 40 yards or longer. The Cowboys already released Maher in 2019 before he returned to win the starting job this season.
Of course, it's also more difficult to exude patience during the playoffs.
The Cowboys nevertheless looked poised to stick with Maher for their second-round showdown at San Francisco.