Report: How Brett Maher Kicked At Practice On Thursday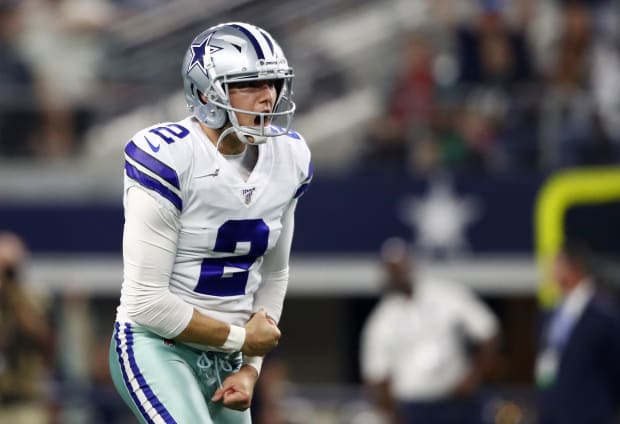 Brett Maher will try to bounce back from the worst day of his NFL career.
In an otherwise dominant win over the Tampa Bay Buccaneers, the Dallas Cowboys kicker missed four extra points. Although they have publically stood by Maher, the team signed Tristan Vizcaino to the practice squad.
Everyone is paying far more attention than usual to the kickers ahead of Sunday's NFC Divisional Round matchup with the San Francisco 49ers. After all, it's not often beat reporters rush to share the results of practice kicks.
Multiple Cowboys reporters said Maher made all six field-goal tries during Thursday's practice. Vizcaino, on the other hand, converted three of five kicks in windy conditions.
Media members weren't positioned to ascertain the distance of those kicks.
Of course, making kicks in practice isn't the same as succeeding in a playoff game in front of thousands of screaming fans. But it's a start to Maher putting Monday's disaster in the rearview mirror.
The four-year pro had previously missed six extra points in 139 tries (playoffs included). Maher converted 29 of 32 field goals this season, with his shortest miss coming from 46 yards.
Dallas will hope Maher shakes off the bad day when going into San Francisco this Sunday night. The game starts at 6:30 p.m. ET on FOX.