Look: NFL World Reacts To CeeDee Lamb Photo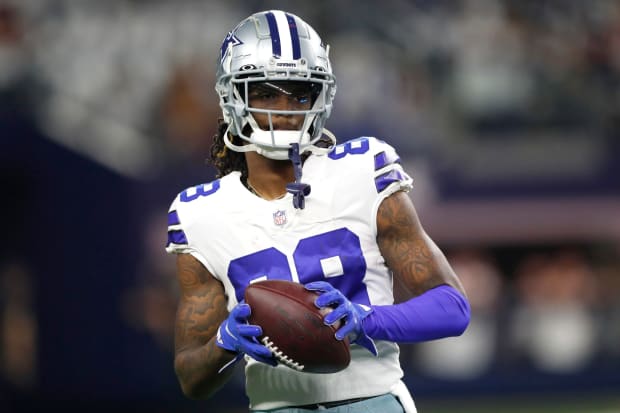 Dallas Cowboys wide receiver CeeDee Lamb had his best NFL season in 2022, setting career-highs in receptions, yards, touchdowns and catch rate. But he's now going viral not for a workout, but for an extra-curricular activity.
A pair of photos from Andres Ortego on Instagram reveals some brand new back tattoos that Lamb got done at a recent session. One photo shows that as many as four tattoo artists were doing needlework on his back at the same time.
But the end result was something to behold. His right shoulder blade features the iconic image of the late-great Kobe Bryant chewing his jersey, his left shoulder blade is of a massive jaguar, below the jaguar is an image of a Spartan warrior, to the right of the Spartan is an image of an I-45 road sign. And down his spine is a crucifix with the words "My Story Isn't Over" above it.
Fans on Twitter were a combination of awe-inspired and horrified by how much needle work went into making that tattoo a reality:
The 2022 season saw CeeDee Lamb record the third-most receptions in Cowboys history with 107 catches.
His nine touchdown receptions were more than any two Cowboys wide receivers combined, while his 1,359 receiving yards also paced the rest of the team.
Lamb's big season didn't culminate in a Super Bowl or even a Conference Championship Game appearance. But the stars could align for even more growth in 2023.