NFL World Reacts To Cowboys' Franchise Tag News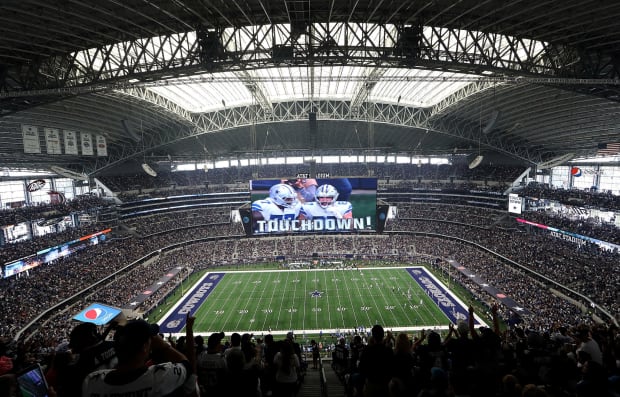 The Dallas Cowboys have not been afraid to use the franchise tag in recent years, and it doesn't sound like they will be shy about doing so again this offseason.
Cowboys executive vice president Stephen Jones addressed a number of topics with reporters on Monday, including a potential extension for quarterback Dak Prescott and the team's strategy for the franchise tag.
Jones said the team will "probably" use the tag this year, via ESPN's Todd Archer.
Jones' tag admission has sparked conversation among fans and media members, with many expecting running back Tony Pollard to be a prime candidate for the designation.
"Few teams get pinned into using the tag like the Cowboys," said ESPN Australia/New Zealand's Laurie Horesh. "A front office that loves their own, drafts well, doesn't attack FA but struggles to get on top of big extensions for their guys. Clearly one explosive weapon short in 2022, they'd be even more needy with no Pollard."
"I wouldn't be upset with that move. Doctors cleared Gallup and said he was fine. Let's see how Pollard do coming off injury. Keep them other teams away Stephen!!" said one Dallas fan.
"I wish they would just make an offer to Pollard and keep franchise tag open if you want to hold [Dalton Schultz] one more year," another fan added.
"Bad decision. Instead of using up 10 million like you did last year, negotiate for a change. Tagging Pollard is a mistake. Nice player but not worth 10 mill," a third fan countered.
Pollard was Dallas' most productive running back in 2022, gaining over 1,000 yards on the ground for the first time in his career. He ran for nine touchdowns and added three as a receiver.
The onetime fourth-round pick is coming off an injury, however, having suffered a high ankle sprain and fractured fibula in the Cowboys' playoff loss to the San Francisco 49ers.