Kellen Moore Has Honest Comment About Working With Mike McCarthy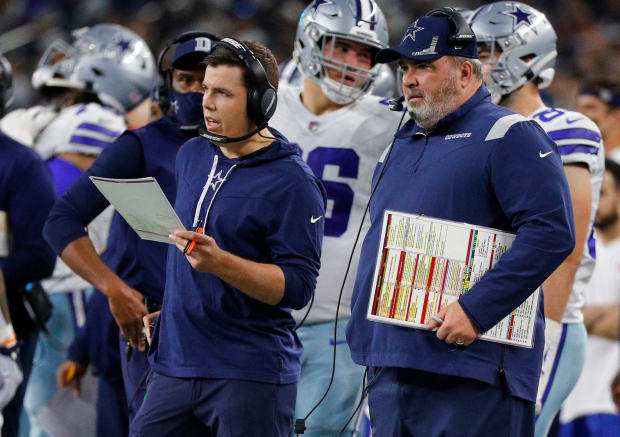 Following the Cowboys' playoff loss to the 49ers, the team announced that Kellen Moore wouldn't return as their offensive coordinator for the 2023 season.
Moore, a former star quarterback at Boise State, started his coaching career on the Cowboys in 2018. After spending a year as the team's quarterbacks coach, he was promoted to offensive coordinator.
Cowboys head coach Mike McCarthy recently made it known that he didn't always see eye-to-eye with Moore. That's probably why a coaching change was made this offseason.
Speaking to the media this week, Moore commented on his working relationship with McCarthy.
Though it's not really a surprise, Moore took the high road.
"It was really fun just to go through the process of merging worlds. I think that was such a fun process," Moore said, via Todd Archer of ESPN. "There's just so many little things as you go through game plans and gamedays as you're calling the game, just being able to have those conversations about different ways you can go, different paths you can take, he was really a great sounding board for me."
Moore will be the offensive coordinator for the Chargers next season.
The Cowboys, meanwhile, will rely on McCarthy to call their plays on offense.