Kellen Moore Reveals 1 Hardest Part About Leaving Cowboys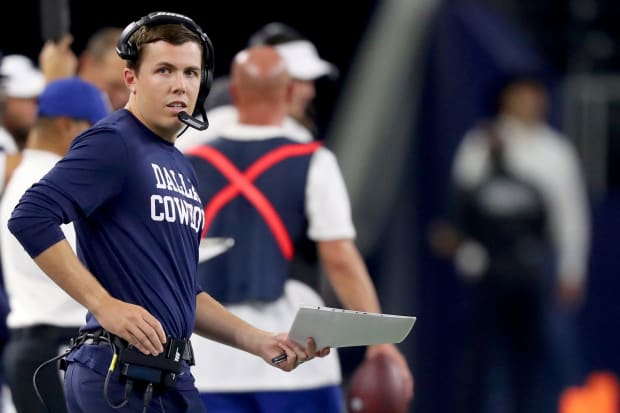 Kellen Moore and Dak Prescott had a close working relationship together with the Dallas Cowboys.
Moore was a veteran quarterback for the Cowboys when Prescott arrived as a rookie in 2016. He then took over as Dak's quarterbacks coach in 2018, and was promoted to offensive coordinator in 2019.
Moore left the Cowboys to take the Los Angeles Chargers' OC position earlier this offseason.
The 34-year-old assistant said the hardest part about leaving Dallas was leaving Prescott.
"The playing aspect of it is what it is. The personal side is probably unique," Moore explained, per team insider Todd Archer. "I was with Dak his entire career. Just love the guy. Love what he's become and how he's earned it. I think he's a guy that everyone looks up to on the team and I think across the league now. I think winning the Walter Payton award is such a cool moment to see. He deserves these types of things. He's a really special person."
Moore will now operate with Justin Herbert as his quarterback.