Look: 1 Potential Landing Spot Is Emerging For Ezekiel Elliott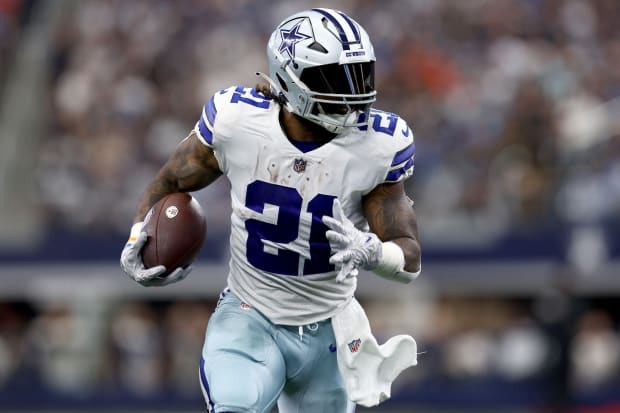 The Cowboys are set to part ways with running back Ezekiel Elliott this offseason, per a report from Clarence Hill of the Fort Worth Star-Telegram.
Elliott is currently set to count $16.72 million against the salary cap. The Cowboys would clear $4.86 million in cap space by getting rid of the former All-Pro before June 1.
If the Cowboys release Elliott, he may receive interest from a team in the NFC South.
According to Rick Stroud of the Tampa Bay Times, the Buccaneers are expected to be interested in Elliott.
The Buccaneers hired Skip Peete as their running backs coach this offseason. Why is that important? Well, he coached Elliott in Dallas from 2020-2022.
Elliott, the former No. 4 overall pick from the 2016 NFL Draft, is no longer considered an elite running back. However, he still produced at a respectable level in 2022.
In 15 games this past season, Elliott had 876 rushing yards and 12 touchdowns on 231 carries. He also had 17 receptions for 92 yards.
The Cowboys have not yet released Elliott.