NFL World Reacts To Dallas Cowboys, DeAndre Hopkins Rumor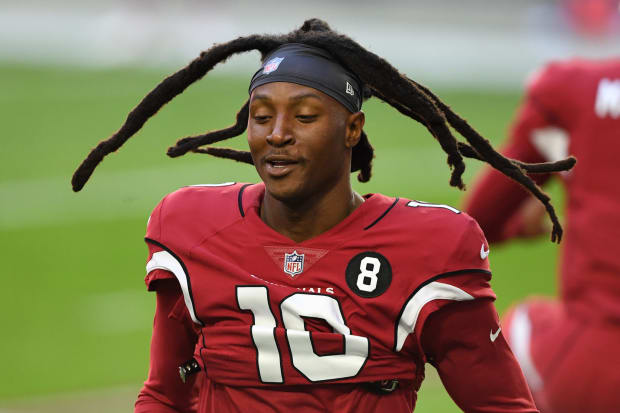 Cowboys owner Jerry Jones recently said the team could do "something special" this offseason. Perhaps that was his way of hinting at a potential blockbuster trade with the Cardinals.
According to Johnny Venerable, the Cowboys are monitoring the trade market for All-Pro wide receiver DeAndre Hopkins.
Earlier this week, Arizona Football Daily's Mike Jurecki said the Cardinals have set the price for a Hopkins trade at a second-round pick and a conditional pick or player.
Even though Cowboys fans would love to see Hopkins in Dallas, they're not very confident that a deal will get done.
"Name a better duo than the Dallas Cowboys and Rumors. You can't," one fan said.
"You never hear about other teams monitoring or doing their due diligence on players, they just get s--t done," another fan said. "The Cowboys front office puts this out to make it seem like they're doing everything they can, but in reality they aren't doing s--t."
The thought of Hopkins teaming up with CeeDee Lamb is very intriguing, make no mistake about it.
Hopkins finished the 2022 season with 64 receptions for 717 yards and three touchdowns.