NFL World Reacts To Odell Beckham, Cowboys Update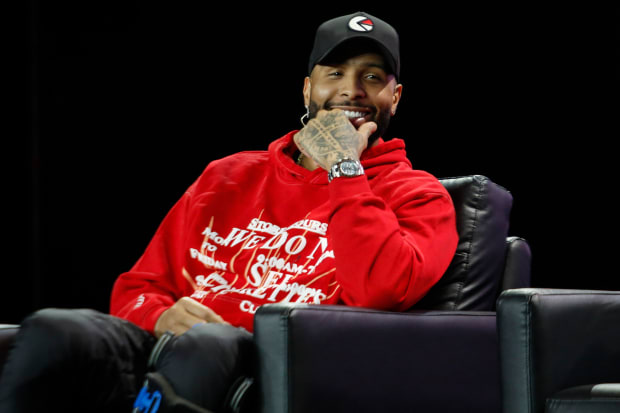 Odell Beckham Jr. remains unsigned after missing the entire 2022 season while recovering from ACL surgery.
The Dallas Cowboys have long been linked to the three-time Pro Bowler, and owner Jerry Jones said on Friday that he has had "indirect contact" with Beckham and spoken with his mother.
"He's somebody that I have the same kind of interest that I had in him during the season," Jones said, via ESPN's Todd Archer.
Cowboys fans have had a lot to say about Jerry's latest OBJ comments.
"This is good. Go sign OBJ, draft Bijan Robinson, sign James Bradberry, and win a championship," one suggested.
"I wouldn't mind going into the season with CeeDee, Odell and Gallup. That would actually be an elite WR room. Odell doesn't drop many passes," another added.
"Jerry having some Johnny Walker blue with OBJs mom is vintage Jerry," said a third Dallas fan.
"There's your FA that Jerry will sign in a New York minute. Laughable!" chimed in a fan who clearly doesn't like the idea of Odell in Dallas.
Beckham will turn 31 in November and last played in Super Bowl LVI. He was connected with a number of teams late in the 2022 season but ultimately did not sign anywhere as he continued rehabbing.