NFL World Reacts To What Kellen Moore Said About Cowboys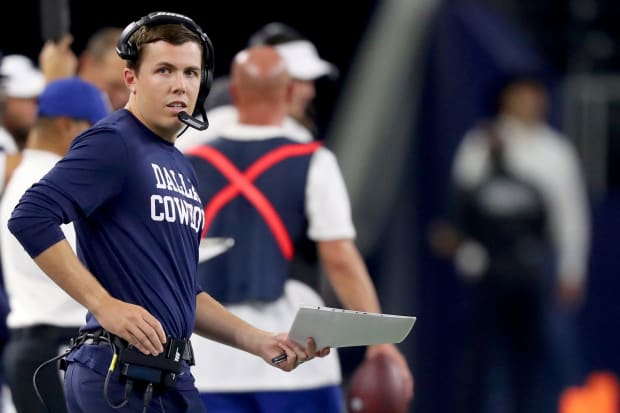 Earlier this week, Cowboys head coach Mike McCarthy made some interesting comments about former offensive coordinator Kellen Moore.
"Kellen wants to light the scoreboard up, but I want him to run the damn ball so I can rest my defense. I think when you're a coordinator, you know but you're in charge of the offense. Being a head coach and being a play caller, you're a little more in tune with (everything)," McCarthy said. "I don't desire to be the No. 1 offense in the league. I want to be the No. 1 team in the league with the number of wins and a championship. And if we've got to give up some production and take care of the ball a little better to get that, then that's what we'll do because we have a really good defense."
Instead of firing back at McCarthy this week, Moore spoke kindly about his time in Dallas.
"Honestly, I love that place," Moore said, via ESPN's Todd Archer. "The Jones family, their willingness to allow me to ascent rather quickly from a player to a QB coach to the coordinator level. Just so many special people there. Absolutely loved it. We were really lucky."
Cowboys fans had mixed reactions to this comment from Moore.
"A+ player approval rating for a reason. There's a hard cap in place just to keep everyone from signing here. Literally," one fan said.
Another fan tweeted, "'I want to pass the damn ball,' Kellen Moore said, probably."
Moore was on the Cowboys' staff from 2018-2022. Now, he's the offensive coordinator of the Chargers.
It'll be interesting to see which side wins this divorce. Moore will have plenty of weapons at his disposal in Los Angeles, but Dallas has proven over the years that it can field a consistent offense.