Video Of Ezekiel Elliott's Likely Last Play With Cowboys Going Viral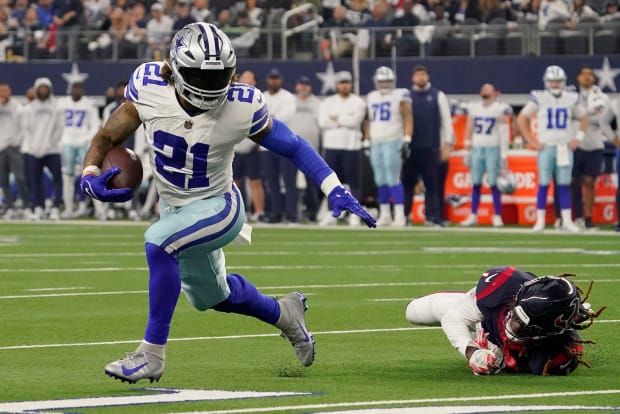 It certainly appears that Ezekiel Elliott has played his last down for the Dallas Cowboys.
Dallas will reportedly part ways with the 2016 first-round pick as early as this afternoon. After seven seasons with America's Team, Elliott is set to be a free agent.
If this is indeed the end for Zeke with the Cowboys, his final play with the team was a memorable one, unfortunately for the wrong reasons.
Elliott's last snap with Dallas literally came with him snapping the ball as the center on an ill-fated trick play at the end of the Cowboys' 19-12 NFC Divisional Round loss to the San Francisco 49ers in January.
Footage of that blooper-worthy sequence is going viral on Twitter following news of Elliott's impending release.
Elliott, 27, will be able to find a role with another team in free agency, but it will likely be a reduced one.
In 103 regular season games with Dallas, Elliott rushed for 8,262 yards and 68 touchdowns on 1,881 carries. He also caught 12 touchdowns and led the NFL in rushing twice.